Our researchers
Do you want to become a visiting research fellow?
International researchers within the field of religious and cultural studies, who are interested in visiting the institute for a shorter or longer time e.g. as part of a sabbatical, are welcome to approach the institute with a freely formulated application. The Donner institute can offer visiting research fellows a tranquil and inspiring research environment. Furthermore, the extensive library collections are at the disposal of the visiting research fellows during their times as visitors at the institute. The institute can unfortunately not provide visitors with housing during their stay and no grants for covering travel and living expenses are available.
The Institute's researchers
Ruth Illman
PhD, ThD, Docent of the study of religions
E-mail
ruth.illman@abo.fi
My main research interests concern questions pertaining to cultural encounters and interreligious dialogue, ethnographic research methodology with cultural studies as well as contemporary Judaism. I am especially interested in the relationship between the arts (particularly music) and religion. Currently, I work predominantly with contemporary religion, combining ethnographic research methods with content analysis and approaches deriving from the philosophy of religion.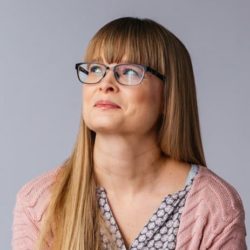 Sofia Sjö
ThD, Associate professor of the study of religions
E-mail
sofia.sjo@abo.fi
Religion and film has been the main focus area of my research, but I am interested in religion, media and culture research broadly. During the last couple of years my research has also focused on young adults and religion and areas such as socialization, gender, digital media and volunteer work.
Nina Kokkinen
PhD, research doctor
E-mail
nina.kokkinen@stiftelsenabo.fi
The focus of my research is on the connections between art and religion from late 19th century onwards. In my dissertation (2019, University of Turku), I examined the importance of esoteric spirituality in Finnish art at the turn of the 20th century, and re-conceptualized the notions of 'occulture' and 'seekership' – theoretical concepts building a bridge from late 19th century esotericism to present-day spirituality. In my postdoctoral research, I further delve into the discourses related to esotericism, heterodox and especially 'Eastern' spirituality in modern and subsequent Nordic art. As a researcher I move across the disciplines of study of religion, art history, and cultural history. I have also curated art exhibitions related to my area of expertise, and I'm interested in creative writing and developing my skills as non-fiction writer and editor.
Research desks
Kim Groop
Dr. Th. Senior Researcher
E-mail
kim.groop@abo.fi
I am a leading a project called "Changing Spaces: Ritual Buildings, Sacred Objects and Human Sensemaking". In this project, we are studying sacred buildings transformed due to external realities, and the people relating to these buildings in various ways. My own case is about the Paulinerkirche (Leipzig University's church that the communist regime blew up in 1968) and the building of the Paulinum (a church and assembly hall inaugurated in 2017). I study the Paulinum as a re-created, or re-framed, cultural heritage. It is of modern design but also looks like the old church and it is housing the rescued art treasures from the destroyed university church. Furthermore, I study the processes that lead to the building of the Paulinum that were marked by dark memories from the GDR period and conflicts about the role of the university. At the heart of the conflict were questions like: "Should the value neutral university really build a church?" and "What should we do with the material heritage from the communist era?"
Robin Isomaa
Doctoral candidate in comparative religion, Åbo Akademi University
E-mail
robin.isomaa@abo.fi
I am a PhD student in the study of religions at Åbo Akademi University. My doctoral research concerns atheism on YouTube. I follow over sixty atheistic content creators, who produce videos about everything from religion and science to politics and popular culture. The focus of my research is the constructions of and negotiations around atheist identities and communities. How should an atheist be? Who is welcome inside atheist communities? How are conflicts between atheists handled? How does YouTube function as a platform for atheist content? Furthermore, I address theoretical and methodological issues around research on YouTube. Outside the work with my dissertation, I am interested in religion in media and online, and I have a weakness for religion in film and other forms of popular culture.
Joel Mansikka
Doctoral candidate in the study of religions, Åbo Akademi University
E-mail
joel.mansikka@abo.fi
My research concerns methods for studying narrative video games and religion. Religion and video games can be approached in vastly different ways depending on the scholarly focus and the video game genre in question. My primary focus is on the methodological differences in studying video games, as opposed to literature, film and TV-series. I consider narrative video games to be cultural objects capable of mediating and reflecting contemporary ideas in themselves like any other popular culture medium. The methods of accessing and analysing religious content within video games, however, require further research, which my study focuses on. My research connects studies within religion and popular culture with video game studies, while maintaining a humanistic view of video games as cultural products.